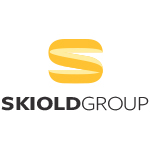 ---
SKIOLD A/S
| | |
| --- | --- |
| 国/地域: | Denmark |
| 小間番号: | 120/K |
---
Since 1877, SKIOLD has specialized in the development, production and installation of high quality full-line pig farms, poultry equipment, cattle farm equipment, feed milling plants and seed and grain processing systems. We at SKIOLD see it as our responsibility to provide customers with innovative equipment for the entire value chain from field to livestock. SKIOLD provide our customers the most innovative solutions that are efficient, reliable, affordable and add value to their businesses.

SKIOLD deliver complete pig farm solutions designed for optimized work flow throughout the farm, complete overview, superior animal welfare, high level of biosecurity and excellent working conditions. Our complete pig farm solutions ensures that logistics and equipment working optimally and create the necessary environment for the highest performing animals.

SKIOLD offer strong and durable equipment for pig farms both within weaner, finisher, mating, gestation and farrowing units. Considerable emphasis has been placed on functionality, animal welfare, user-friendliness, quality and ease of cleaning.
The SKIOLD pig farm equipment are designed to offer the animals and the producer the best conditions throughout the complete process, which ensures flexibility, easy accessibility, easy animal monitoring, and optimal management possibilities.

SKIOLD are a leading supplier of dry feeding, liquid feeding, loose sow feeding, automatic feeders, ventilation, pig waterers, penning, automatic pig sorting stations and digital pig management systems. Our wide range of products are able to meet your specific needs for any pig farm equipment.
With decades of experience in delivering complete full line pig farming solutions worldwide, you can rely on our expertise to provide you the solution best suited for your requirements.
マッチメイキング予約
Visitor admission